Pollard Banknote Limited ("Pollard Banknote"; TSX: PBL) is thrilled to showcase its newest Universal Monsters ticket design at the North American Association of State and Provincial Lotteries("NASPL") 2023 annual conference in Milwaukee, Wisconsin. The designs are the first to combine the power of Pollard Banknote's digital press with the sales-driving Scratch FX® Duos print innovation. Samples will be available at Pollard Banknote's booth during the October 30 to November 2 event.
The new, eye-catching designs being previewed at the NASPL conference feature iconic Universal Monsters in head-to-head battles and are accentuated by two striking Scratch FX® patterns—a dynamic holographic pattern and a shimmering metallic accent—to enhance the spine-tingling qualities of the eerie enemies. Frankenstein locks eyes with The Bride of Frankenstein, The Mummy squares off against Dracula, and Creature from the Black Lagoon threatens The Wolf Man. Pollard Banknote's digital press adds ever more design possibilities by leveraging the extensive visual assets offered by Universal Monsters and rendering crisp, dynamic, and richly detailed visuals.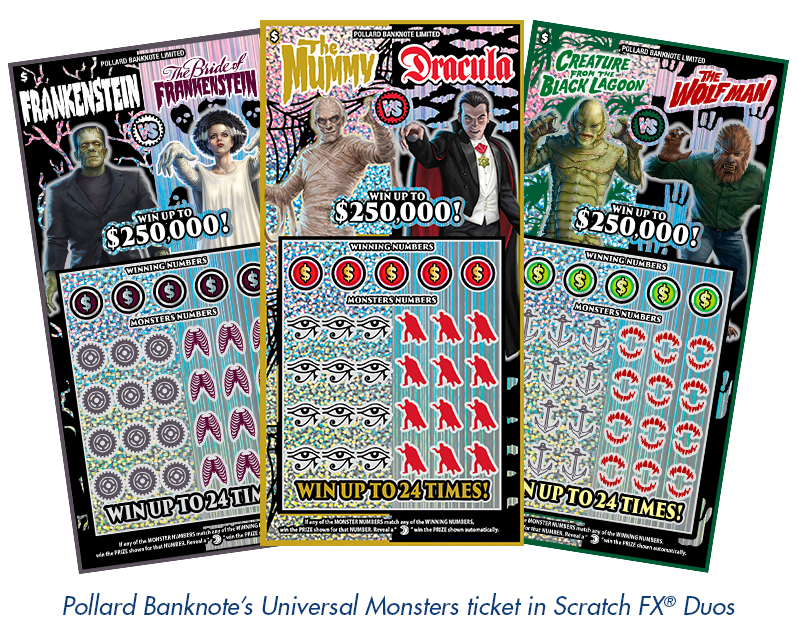 Universal Monsters has nostalgic appeal that spans generations, making the brand a great fit for lottery. The freaky friends with distinct personalities are widely recognized at retail and provide players of instant games with scary good fun. With games recently launched in five jurisdictions in North America, Universal Monsters has proven to be a very popular game this Halloween season. Marketing support for these games has included unique POS pieces, including life-sized standees, digital video content, and second-chance promotions for cash and Universal Monsters merchandise prizing.
"Universal Monsters offers hair-raising horror for lotteries and their players," said Brad Thompson, Vice President, Sales & Marketing, Pollard Banknote. "We can't wait to show off these new designs at our NASPL booth, including the oversized version custom-made for the event. Lotteries across North America are having screaming success with these monster-themed games, and this new design will inspire shrieks of delight while driving sales to support good causes."
© Universal City Studios LLC. All Rights Reserved.
---
About Universal Monsters
Over 75 years ago, Universal Pictures introduced the public to some of the most iconic horror characters in cinematic history that would live on in pop culture for decades to come. Now known as Universal Monsters, these larger-than-life creatures, including Dracula, Frankenstein, and The Wolf Man, continue to haunt our nightmares today.
---
About Pollard Banknote
Pollard Banknote is a leading lottery partner to more than 60 lotteries worldwide, providing high-quality instant ticket products, licensed games, in-lane ticket options, and sales-driving merchandising solutions from its Schafer Retail Solutions + portfolio. It also offers a full suite of digital offerings, ranging from world-class game apps to comprehensive player engagement and iLottery solutions, including strategic marketing and management services. The company is a proven innovator and has decades of experience helping lotteries to maximize player engagement, sales, and proceeds for good causes. Pollard Banknote also provides pull-tab tickets, bingo paper, ticket vending machines, and its Diamond Game and Compliant Gaming electronic games and devices to charitable and other gaming markets in North America. Established in 1907, Pollard Banknote is owned approximately 64.2% by the Pollard family and 35.8% by public shareholders, and is publicly traded on the Toronto Stock Exchange (TSX: PBL). For more information, please visit our website at www.pollardbanknote.com.
---
Forward-looking Statements
Certain statements in this press release may constitute "forward-looking" statements and information, which involve known and unknown risks, uncertainties, and other factors that may cause actual results, performance, or achievements to be materially different from any future results, performance, or achievements expressed or implied by such forward-looking statements. When used in this document, such statements include such words as "may," "will," "expect," "believe," "plan," and other similar terminology. These statements reflect management's current expectations regarding future events and operating performance and speak only as of the date of this document. There should not be an expectation that such information will in all circumstances be updated, supplemented, or revised whether as a result of new information, changing circumstances, future events, or otherwise.
---
For More Information Contact
Pollard Banknote Limited
Telephone: (204) 474-2323