Pollard Banknote Limited (TSX: PBL) ("Pollard Banknote" or "the company") is pleased to announce that, following a competitive procurement process, it has been awarded a primary contract from Norsk Tipping, Norway's national lottery, to supply instant scratch tickets. The three-year contract commenced December 1, 2022 and will automatically renew for one additional year.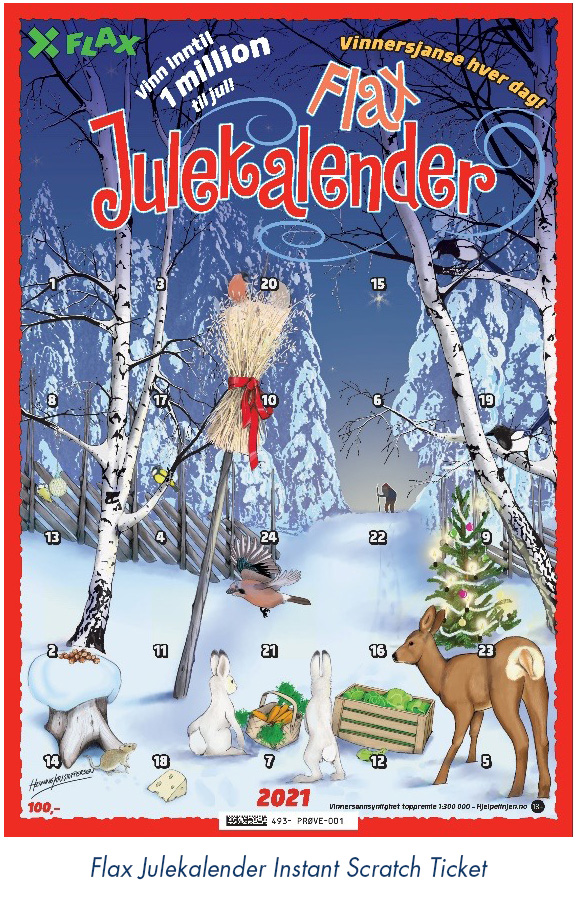 This is the second consecutive contract where Pollard Banknote has been named primary supplier, marking the continuation of the long-standing partnership between Pollard Banknote and Norsk Tipping. Most recently, Norsk Tipping achieved notable sales success with the launch of several products featuring Pollard Banknote's industry-leading innovations, including Scratch Tab™, featured in the best-selling holiday game, Flax Julekalender. Offering big value in an oversized ticket, Flax Julekalender continues to be a player favourite at Christmas every year. The Lottery has also leveraged Pollard Banknote's Scratch FX™ innovation, which adds sparkle and shines brightly at retail, to drive record-setting sales that benefit good causes across Norway.
Pollard Banknote also shares the Lottery's commitment to raising funds for good causes while providing products and services responsibly and ethically. Throughout the duration of the contract, Pollard Banknote will continue to work alongside Norsk Tipping to ensure it upholds sustainable and environmentally friendly practices.
"Pollard Banknote has been a trusted partner for many years and through this new contract we look forward to leveraging more of their industry experience and expertise, including strategic marketing services, as well as exciting product innovations," said Hans Erland Ringsvold, Head of Gaming Operations, Norsk Tipping. "We are excited to continue to work together to offer our players instant scratch tickets, both retail and online, in an innovative and sustainable manner that grow revenues to the benefit of sports, culture, and humanitarian organisations in Norway."
"We are thrilled to continue our successful relationship with Norsk Tipping," said Julia Cloutier, Senior Director, Sales & Marketing, Pollard Banknote. "The Lottery has leveraged many of Pollard Banknote's exciting product innovations over the years, including Scratch FX™, Iridescent FX™, and Scratch Tab™. This new contract will allow us to continue to work with the Lottery to offer our latest innovations and sustainable, market-specific strategies to ensure growth that benefits good causes across Norway."
Founded in 1948, Norsk Tipping is a wholly state-owned lottery located in Hamar, Norway. Its social mission of offering attractive games within responsible frameworks to create profits for good causes has enabled the Lottery to contribute over 183.5 billion Norwegian kroner (approximately $18.6 billion USD) to sport, culture, health, and humanitarian causes throughout Norway.