Pollard Banknote Limited ("Pollard Banknote"; TSX: PBL) congratulates the British Columbia Lottery Corporation ("BCLC") on the launch of Ticket to Ride, the lottery industry's first-ever instant ticket based on Days of Wonder's Ticket to Ride™, an acclaimed board game in which players compete to claim routes, connect cities, and build the longest rail line. Featuring a top prize of $50,000 and a wild card bonus, BCLC players are on the fast track to experience all the fun of the award-winning board game in an entertaining new way.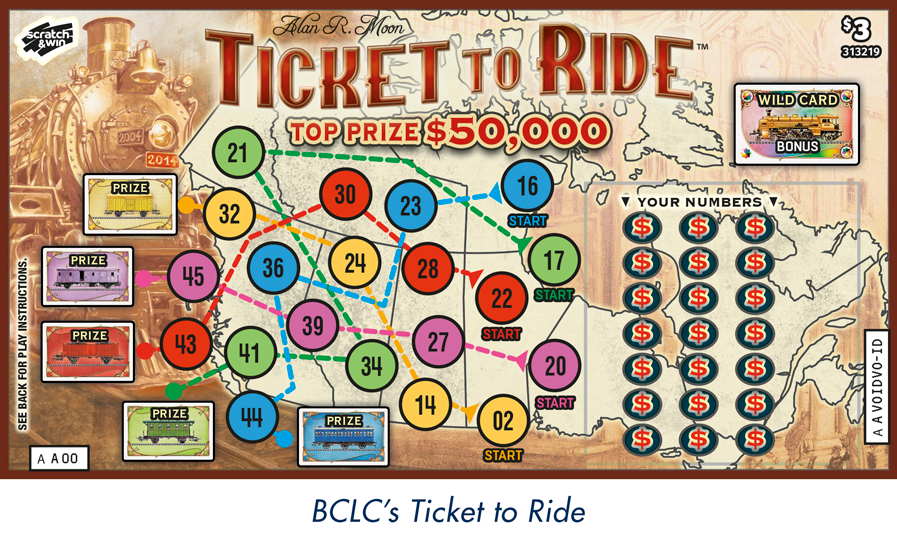 As summer travel plans kick into gear, the $3 ticket takes British Columbians on a trip across Canada with colourful, Pollard Banknote-designed artwork that echoes the look and feel of the board game. Leveraging the ever-popular lucky lines play mechanic, players embark on a cross-country adventure to reveal all four numbers within the same-coloured rail line. A wild card bonus provides players with an extra chance to hop aboard for a cash prize. The Ticket to Ride™ board gamerocketed to fame after winning the prestigious Spiel des Jahres prize in 2004 and has sold over 10 million copies in more than 50 countries worldwide.
The inaugural instant ticket launch features an integrated and multi-faceted marketing program supported by Pollard Banknote, which includes an engaging social media campaign and the production of a how-to-play video for BCLC's website.
"We are delighted to offer British Columbians a brand new way to experience the fun and the spirit of Ticket to Ride™ this summer," said Erin Neoh, Senior Product Specialist, Instant Games, BCLC. "Collaborating with Pollard Banknote has resulted in a great new game that will provide our players with many moments of excitement and adventure, and is a welcome addition to our Scratch & Win portfolio."
"We congratulate BCLC on being the first to market with its exciting new Ticket to Ride Scratch & Win game," said Brad Thompson, Vice President, Sales & Marketing, Pollard Banknote. "Our licensed portfolio features many established game brands, such as Ticket to Ride™, which translate seamlessly into engaging instant tickets for all types of players. We're confident that British Columbians will embrace the thrill of this exciting new game."
The Province of British Columbia founded BCLC in 1985 with the purpose of giving back to the citizens of B.C. and helping communities grow. Since then, BCLC has delivered more than $28 billion in net income to support communities, provincial programs and services, charities, and major events that have helped shape B.C.
© 2023 Days of Wonder. Ticket to Ride and the Days of Wonder logos are trademarks of Days of Wonder. All Rights Reserved.